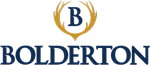 Built for comfort and concealment, the Bolderton® Outlander 360 Ladder Stand sets you up right for hunting success. It features a large 42″w. x 42″d. foot platform for stretching out, plus a mesh seat with backrest that makes it easy to stay all day in the stand. Plus, thanks to its (6) built-in blind panels, you'll be able to draw game in close for easy, one-shot drops.
Grizzly Grip Safety System—the safe, secure way to hunt.
Climbing just got a whole lot safer with Bolderton's new Grizzly Grip Safety System. Designed from the ground up to make your tree stand safe and incredibly secure before you even begin to climb up. The Grizzly Grip Safety System will grip tightly to your tree of choice, giving you a stable, shake-free base for hunting whitetails and other wildlife.
19′ to armrests
42″w. x 42″d. Power Grid foot platform
Comfortable 17.5″w. x 13″d. Reflex mesh seat with 360° swivel
Grizzly Grip Safety System secures your stand tight to the tree before your climb up
(6) integrated blinds offer concealment from below
Includes bow and gun holder
110 lbs.
Key Specifications
Item Number: 717727
Construction: Steel
Height to Armrest: 19′
Platform Dimensions: 42″w. x 42″d.
Seat Dimensions: 17.5″w. x 13″d.
Weight Capacity: 300 lbs.
Weight: 110 lbs.